Name
Shiraishi Co., Ltd.
Representative
Junichiro Shiraishi, Representative Director
Founded
1925
Registered as company
December 1st, 1963
Capital
35,000,000 yen
Employees
179(including part-time workers)
Sales
14.4 billion yen
Banking partners
Higo Bank, Kitakyushu Bank, Fukuoka Bank, Kumamoto Bank,
Nishi-Nippon City Bank, Mizuho Bank
Business operations

Snack food wholesale

We sell snack foods and food products produced in-house and by other producers to popular supermarkets, convenience stores, drugstores, etc., in Kumamoto and each of the prefectures in Kyushu.

Cell-phone sale

We operate a total of four Docomo shops (two in Yatsushiro, one in Hitoyoshi, one in Minamata). We also offer business consultation services.

Products handled
Snacks, food products, NTT Docomo handheld phones, miscellaneous
Main business partners
About 400 supermarkets, drugstores, and discount stores. About 300 convenience stores.
Main suppliers
Lotte Shoji, Co., Ltd., Morinaga & Co., Ltd., Meiji Co., Ltd., Ezaki Glico Co., Ltd., Fujiya Co., Ltd., Bourbon Corporation Japan, Calbee Inc., Kameda Seika Co., Ltd., Kabaya Foods Corporation, Kracie Holdings, Ltd.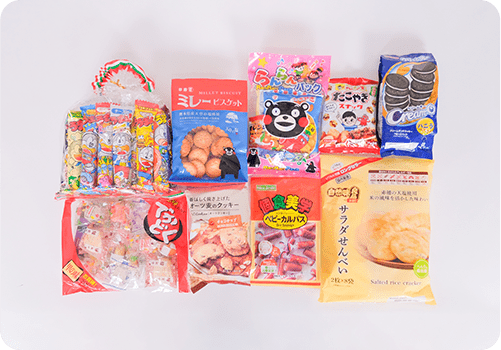 Variety of original products
We are part of the NS Research Society, composed of 13 companies from around Japan. Through joint development, we are able to offer hundreds of original products (snack foods) and offer attractive sales locations unmatched by other companies.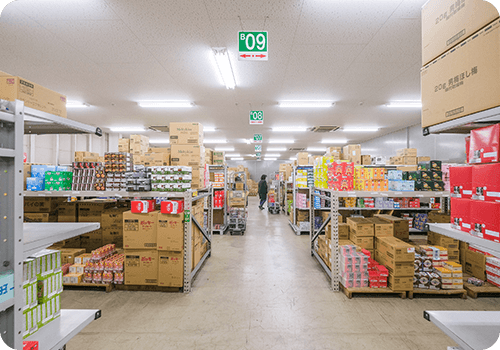 Superior distribution abilities
By using our NSIP System, we offer customers higher delivery rates and fresher products than our competitors are capable of.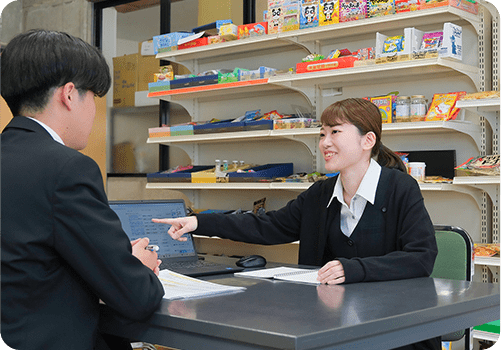 Solid training and education programs
We offer a wide variety of training and education programs for the purpose of training sales staff to make quality decisions on profitable snack foods and educating employees to be excellent workers.
ORIGINAL PRODUCT DEVELOPMENT SUPPORT
(OEM)
WE will support OEM products development with manufacturers as your desire.
1)Contact and product development request(OEM)

Please feel free to contact us an out the products' details even when the idea is not quite clear.
We will propose the best products plan according to your desire and the latest market trends.

2)Choose manufacturers and discussion

Choose manufacturers according to the products' type、from、production scale and your desire.
In order to realizing the product plan and we will create products reflected in the added value taking advantage of the experience and knowledge of our company.

3)Test production and package design check up

Test production will be continued until your satisfaction.
The design of the product package will proceed while sprinkled with your feedback.

4)Final decision and OEM formal request

Quotation will be made when Product specifications Once decided.
After your confirmation of the details the contract will formally be concluded.
Production start.